Design Alliance Recent News
August 22 2012
The Flora Apartemtns in Melbourne designed by Roger Brayshaw is featured in the Habitus Living.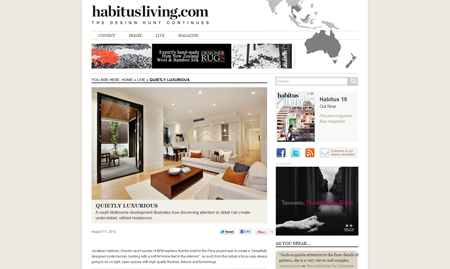 December 1 2007
The Falzon Residence designed by Richard Groves is featured in the Courier Mail.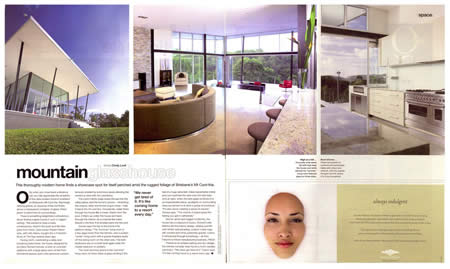 November 22 2006
Brisbane News, the number one news magazine for the greater Brisbane area, has voted the Falzon Residence, The Gap, designed by Richard Groves, Number One home for 2006.
"One thing you can't ignore in Queensland is the weather. These 10 homes, my pick for 2006, show how their architects have responded to our need for shelter in ingenious ways, and how they have made the most of our sub tropical climate.
…Four of these houses have been built from scratch and show how much a designer's imagination can change and improve our lives...
1. Richard Groves
The family of five who built this house in The Gap, wanted it to be ' just like a big roof in the bush'. Set on a stunning north facing hillside of rural paradise, it takes full advantage of its mountain –top setting. Architect Richard Groves has designed an elegant 'shed' of concrete and glass, which the owners have dressed up with contemporary furnishings and luxurious fittings. A lap pool suspended over the slope acts like a big fridge to cool the house in summer. Ponds and waterways also wind through internal spaces to add to the effect."
We are passionate about housing at the Design Alliance and we look forward to creating your next perfect living space, whether it be from scratch or adapting an existing residence and whether it be a one off or an apartment complex..
12 December 2006
Dreamworld today opened their new world class Water Park, 'White Water World', at Coomera on the Gold Coast. The new park, which boasts 5 of the latest and greatest water rides in the world, has been designed to complement the existing Dreamworld Fun Park and offers rides and fun for people of all ages including a world first Wiggles Water ride.
The Design Alliance (Qld) was commissioned by Dreamworld to undertake Master Planning and all architectural design for the project. We had previously successfully undertaken a number of smaller refurbishment projects for Dreamworld, including a new food court and Entry Building.
The new project is the first new Theme Park to be built on the Coast in the past 20 years, and is the biggest single project undertaken by Dreamworld since it was acquired by Macquarie Leisure Trust an number of years ago. The cost was approximately $60 million aud, and the project took 20 months to design and construct. The Construction Manager was Watpac Ltd.
The Design Alliance worked closely with a number of other consultants including Water Technology USA, Qantec McWilliam, RCP, Urban Space Design and theming consultant Atomiq, to deliver this outstanding project on time and budget.
For further information contact Richard Groves at our Brisbane Office.
April 2007
Our visit to this years Milan Furniture Fair and Euroluce revealed the upcoming trends in modern and classic interior and lighting design Certainly sustainability in design is a key theme, as was greater design freedom in the design of low energy lighting.
As is expected of the Italians, Quality and Passion were also key ingredients in the city wide celebration of excellence in design.
We will report on this fair on more detail later.